Tour De Ice Cream!
Hello, and thanks for stopping by! My name is Matt Carpenter and I am a Manitou Springs local and the owner/operator of the Colorado Custard Company.

My wife and daughter, Yvonne and Kyla, and I love to eat ice cream! There are about 10 places that serve it in Manitou Springs which makes for a great weekend "Tour De Ice Cream." More often than not, we ended up at the Colorado Custard Company both for the great Custard and the reasonable price. While pretty much any ice cream is good family fun, the taste of Custard always had us saying, "WOW!" And because the flavor choices are endless, we can always try something new. Indeed, we could try 150 combinations an hour for 50 years and not cover them all!

So when the previous owner decided to retire I bought the company (Read the story here - 469Kb PDF). It's been awesome and I love talking to our "custardmers." As a runner I especially enjoy hearing from those stopping by after they do the Manitou Springs Incline or after their hike, bike, run, drive or COG train trip on Pikes Peak.

Bottom line, if you want a great tasting treat at a reasonable price stop by the Colorado Custard Company where we believe, "dessert should not cost as much as dinner!"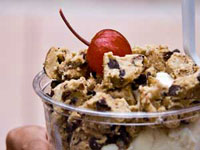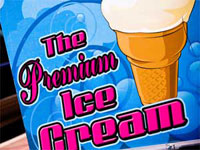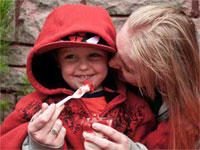 What is Frozen Custard?
The FDA classifies Frozen Custard as a premium Ice Cream.
What makes Frozen Custard premium?

Frozen Custard contains more egg yolk which contributes to its superior creaminess and consistency.
Frozen Custard is smooth, dense and creamy because it's only 20% air whereas Ice Cream is about 80% air.
Frozen Custard isn't as cold as Ice Cream so it doesn't freeze your tastebuds, so it tastes better.
What flavors do you serve?
We make fresh Frozen Vanilla and Chocolate Custard which we can scoop for cones. In cups we add toppings or blend them right into to the Frozen Custard to make all kinds of flavors. In fact, there are more than 67 million combinations to choose from!
Our custard is made fresh throughout the day in our own shop!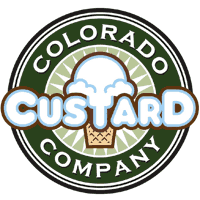 Colorado Custard Company
906 Manitou Avenue, Unit 100
Manitou Springs, CO 80829
(719) 246-9722

Summer Hours
Jun, Jul, Aug, Sep
Mon - Sun 11:00am to 9:00pm


Shoulder Season Hours
Mar, Apr, May and Oct
Mon - Fri 12:00pm to 6:00pm
Sat - Sun 12:00pm to 7:00pm
Closed if below 40 degrees

Winter
Nov, Dec, Jan, Feb
Closed